Register
League #10 - High School Boys "LOB" League Basketball
MonTueWedThuFriSatSun 7:30pm to 8:45pm
Individual Fees

Regular

$125.00

+ Transaction Fee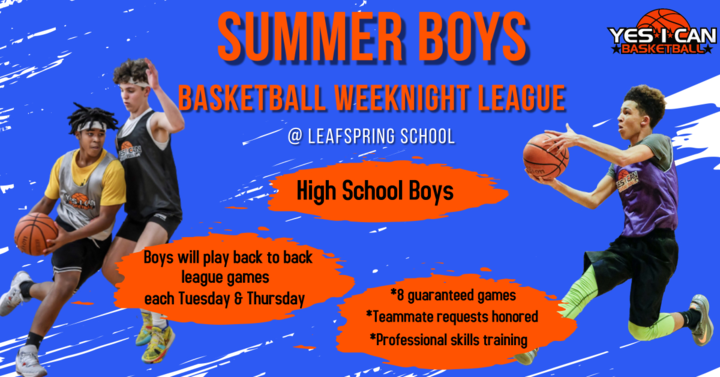 What: League #10 - (High School Boys) Weeknight "LOB" League (Back to Back games each night)
Where: LeafSpring Spring located at 3420 Pleasant Plains Rd, Matthews, NC
When: 5 Tuesday and Thursday evenings - (June 13th, 15th, 20th, 22nd, & 27th) from 7:30pm - 8:30pm
Cost: $125

League features: *Back to Back 30 minute league games each Tuesday & Thursday evening *Professional skills training by our paid staff members *Equal playing time *Balanced teams to ensure close competitive games *No scheduled practices during the week, all practices held before league games *Motion offense & detailed game concepts
First day report time will be 7:30pm on Tuesday, June 13th at LeafSpring School. Plan on your son being in the gym for around an hour the first Night! On this day we'll draft teams/honor teammate requests, hand out uniform tops and schedules, assign coaches, and play our first game.

FAQ: What if we cannot attend the first day evaluation?
No worries!! Your son will be placed on a team, your schedule and roster will be emailed to you, and your son's jersey will be waiting for him at the gym when he joins us.
Who will be training my son - coaching him?
Our site directors are carefully hand selected professionals that have impressive basketball experience - but also have the ability to teach and motivate young players. They will handle the instruction/drills each league day. We depend on parents to volunteer to coach the games. If you have patience, can encourage young players please volunteer to lead the boys on the bench. It's a blast!