Register
Summer Camp #1 - All-Purpose Camp (Full Day) Basketball
MonTueWedThuFriSatSun 9:00am to 4:00pm
Individual Fees

Regular

$229.00

+ Transaction Fee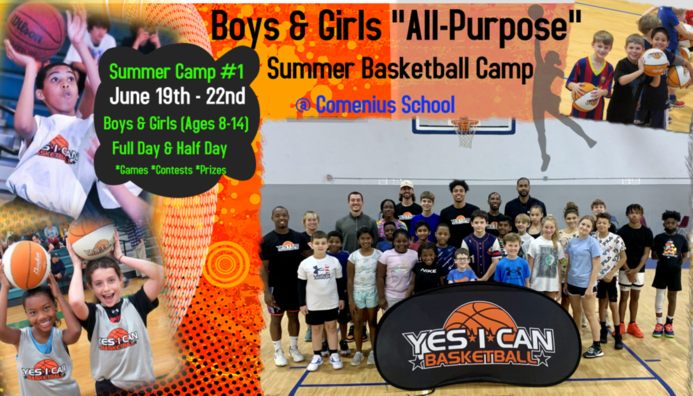 Summer Camp #1 - Boys & Girls (ages 8-14) "All Purpose Camp"
Who: Boys and girls (ages 8-14) - yes we separate boys from girls :)
What: 4-Day FULL DAY (9:00am - 4:00pm)
Where: Fort Mill - Comenius School for Creative Leadership - located at 8160 Regent Parkway Fort Mill, SC 29715
When: June 19th - June 22nd (Monday - Thursday)
Cost: $229 for all 4 days (includes camp gift)

Camp Description:
Run by former division 1 standout and regional director Johnathan Edwards - Our 4 day "All Purpose" camp is the PERFECT camp for a player who is new to the game, or just wants to brush up on their skills! This camp is designed to improve each individual players' fundamentals by focusing on detailed skill development including ball handling, shooting, game concepts, and more! But don't worry - this camp is a blast. We will incorporate plenty of games, skills competitions, challenges, and tournaments. We will also include film study to make sure that players are truly learning to play the game the right way. We will form teams and have daily camp "tournaments" including a camp champion at the end of the week!

Daily Camp Schedule:

(9am - 10:30am) - Teaching fundamentals / skills training / drills
(10:30am - Noon) - Competition / games / contests
(Noon - 1:00pm) - Lunch (players need to bring their own lunch)
(1:00pm - 4:00pm) - 4 on 4 & 5 on 5 scrimmaging / tournaments