Register
League #2 - Boys (8-10) "Train & Play" Basketball
Accepting Waitlist
MonTueWedThuFriSatSun 9:00am to 10:30am
Individual Fees

Regular

$199.00

+ Transaction Fee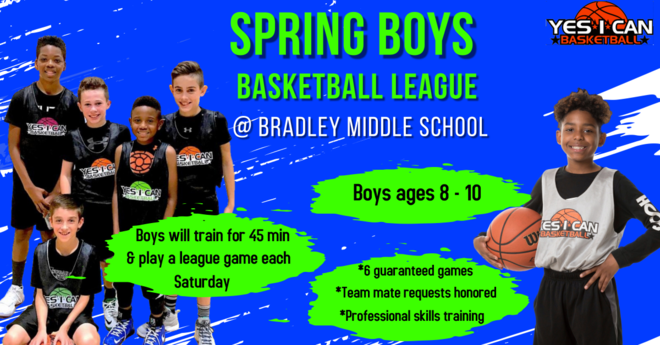 What: League #2 - Boys only (ages 8 - 10)
Where: Francis Bradley Middle School located at 13345 Beatties Ford Road, Huntersville, NC 28078
When: 7 Saturdays - March 18th - May 13th (OFF 4/8 & 4/15) @ 9:00am
Cost: $199
League features:*40 minute games *professional clinics by our paid staff members *equal playing time *balanced teams to insure close competitive games *man to man defense *5 man motion offense

First day report time will be 9:00am on Saturday, March 18th at Francis Bradley Middle. On this first day we'll draft teams/honor teammate requests, hand out uniform tops and schedules, and begin teaching our motion offense. Wanna play with your buddies? Simply type in their names on the teammate request section of the registration form
Boys will report each Saturday morning at 9:00am for professional teaching clinic followed by a league game. Every effort will be made to honor all teammate requests - but not if request causes teams to be unbalanced. "friendship will not trump fairness"

FAQ: What if we cannot attend the first day evaluation?
No worries!! Your son will be placed on a team, your schedule and roster will be emailed to you, and your son's jersey will be waiting for him at the gym when he joins us.
Who will be training my son - coaching him?
Our site directors are carefully hand selected professionals that have impressive basketball experience - but also have the ability to teach and motivate young players. They will handle the instruction/drills each league day. We depend on parents to volunteer to coach the games. If you have patience, can encourage young players please volunteer to lead the boys on the bench. It's a blast!