Register
League #9 - Boys (10-12) Saturdays - Morning Session Basketball
Accepting Waitlist
MonTueWedThuFriSatSun 9:00am to 12:00pm
Individual Fees

Regular

$199.00

+ Transaction Fee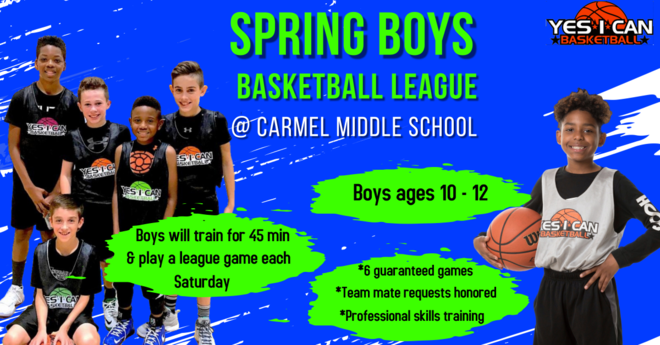 This program is SOLD OUT - Please know that we DO have room in our Boys Sunday Training

What: League #9 - Boys only (ages 10 - 12)
Where: Carmel Middle School located at 5001 Camilla Dr, Charlotte, NC (Morning Session)
When: 7 Saturdays - March 25th - May 20th (OFF 4/8 & 4/15) @ 9:00am or 10:30am
All Dates - 3/25, 4/1, 4/22, 4/29, 5/6, 5/13, 5/20

Cost: $199
League features: *40 minute games *Professional skills training by our paid staff members *Equal playing time *Balanced teams to ensure close competitive games *No scheduled practices during the week, all practices held before league games *Man to man defense *5 man motion offense
First day report time - Saturday, March 25th @ 9:00am


For the following 6 weeks after evaluation - boys will report each Saturday at either 9:00am or 10:30am for their 40 minute professional skills training followed by their 40 min league game. No scheduled practices during the school week.


Our professional staff will handle the skills training each Saturday but we rely on parents to step up and coach the games. Coaching duties are mostly handling substitutions and offering words of wisdom and encouragement to the boys on game day. Check the box on the registration form if you have interest in coaching!
Professional skills training will include - Ball handling, Shooting, passing, defense, rebounding, transition offense & defensive principals, motion offense, 1 on 1 moves & more!

Every effort will be made to honor all teammate requests - but not if request causes teams to be unbalanced. "friendship will not trump fairness"

FAQ: What if we cannot attend the first day evaluation?
No worries!! Happens all the time, but if your son cannot attend the evaluation day, please email us a brief description of your son's experience and confidence level to info@yesicanbasketball.com. Your son will be placed on a team, your schedule and roster will be emailed to you, and your son's jersey will be waiting for him at the gym the next weekend!