Register
League #3 - Boys (8-10) Basketball
Accepting Waitlist
MonTueWedThuFriSatSun
Individual Fees

Regular

$199.00

+ Transaction Fee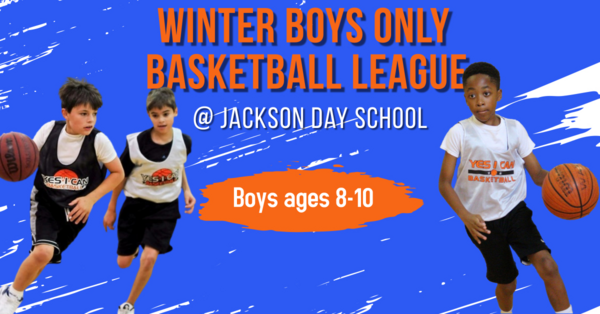 What: League #3 - Boys ONLY ages (8-10)
Where Jackson Day School (formerly Mountain Island Day School) located at1209 Little Rock Rd, Charlotte, NC 28214

When: 7 Saturday mornings/afternoons - (December 10th - February 4th) OFF 12/24 & 12/31
Cost: $199
Jackson Day School is proud to announce a
NEW
partnership that will bring the popular Yes I Can Basketball winter youth basketball leagues to our campus.
Families will be able to experience first hand just why
Charlotte Magazine
recently named Yes I Can Basketball the best youth basketball program in the Charlotte region.
So what makes Yes I Can Basketball so special?
Looking for recreation basketball or AAU? You'll be disappointed. This professional program focuses on developing the player rather than the team.
Directed by Jackson Day School's new varsity boys coach Coach Sir Darryl Johnson, this experienced trainer boasts impressive basketball experience - he simply knows how to teach and motivate! Coach Johnson will personally direct all the training, drills and teaching.
No scheduled practices during the school week!
PLAY WITH YOUR FRIENDS: teammate requests can be made on the registration form!
Before each 40 minute league game, all players go through 45 minutes of high energy skills training/drills performed by Coach Johnson.
Age appropriate skills training will include such fundamentals as ball handling, shooting, passing, defense, dribbling, rebounding, motion offense, 1 on 1 moves & more!
League features: *40 minute league games *45 minutes of professional skills training before each game - no scheduled practices during school week *equal playing time *balanced teams to insure close competitive games *MAN to MAN defense *5 man motion offense *end of season tournament *weekly MVP awards
First day report time will be 12:30pm on Saturday, December 10th at Jackson Day School. Plan on your son being in the gym for about two hours the first Saturday! On this day we will draft teams/honor teammate requests, hand out uniform tops and schedules, assign coaches, and begin teaching our motion offense.
For the following 6 weeks, boys will report each Saturday morning/afternoon for 40 minutes of professional skills training followed by a 40 minute league game. Every effort will be made to honor all teammate requests - but not if the request causes teams to be unbalanced. "friendship will not overtake fairness"

FAQ: What if we cannot attend the first day evaluation?
No worries! Your son will be placed on a team, your schedule and roster will be emailed to you, and your son's jersey will be waiting for him at the gym the following weekend
Who will be training my son - coaching him?
Coach Johnson, Jackson Day School's varsity boy's coach, has impressive basketball experience - but also has the ability to teach and motivate young players. He will handle the instruction/drills each league day. We rely on parents to volunteer to sit on the bench with the boys during our games. Positive spirited adults with a love of serving are encouraged to sign up to coach!