Register
Summer Camp #15 - Boys ONLY Scrimmage Camp (Half Day) Basketball
MonTueWedThuFriSatSun 1:00pm to 4:00pm
Camper Fees

Regular

$189.00

+ Transaction Fee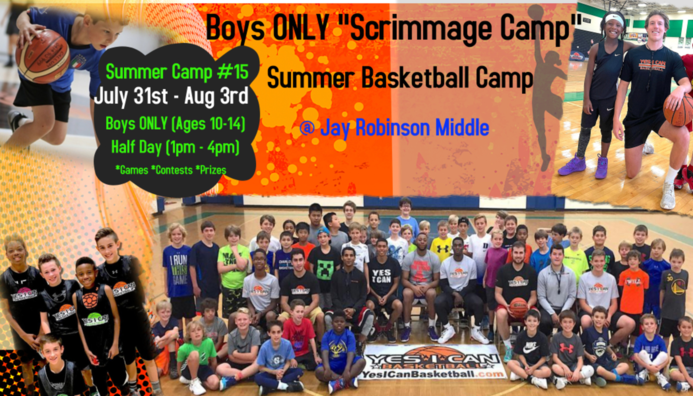 Summer Camp #15 - Boys ONLY (ages 10-14) "Scrimmage Camp"
Who: Boys Only (ages 10-14)
What: 4-Day Half Day (Afternoon Session: 1:00pm - 4:00pm)
Where: Ballantyne - Jay M. Robinson Middle - 5925 Ballantyne Commons Pkwy, Charlotte, NC 28277
When: July 31st - August 3rd (Monday - Thursday)
Cost: $189 for all 4 days (includes camp gift)

Camp Description:
OMG! This is what boys are hungry for - 4 days of non-stop controlled professional league scrimmaging! Let's make it clear though, our staff will insist on the boys playing the right way; with emphasis on good shot selection, ball movement, using screens, sharing the ball and good defense.

Brief teaching clinics will be sprinkled in during the day, but the purpose of the camp is to polish up their game by getting in tons of playing time. Boys are placed on teams and daily tournaments are held. Emphasis is on heavy competition.
Daily Camp Schedule:
(1:00pm - 2:00pm) - Skills training / Scrimmage concept teaching/ film study

(2:00pm - 4:00pm) - 4 on 4 & 5 on 5 scrimmaging / tournaments