Register
Summer Camp #9 - The Pro Experience Camp (Full Day) Basketball
MonTueWedThuFriSatSun 9:00am to 4:00pm
Camper Fees

Regular

$249.00

+ Transaction Fee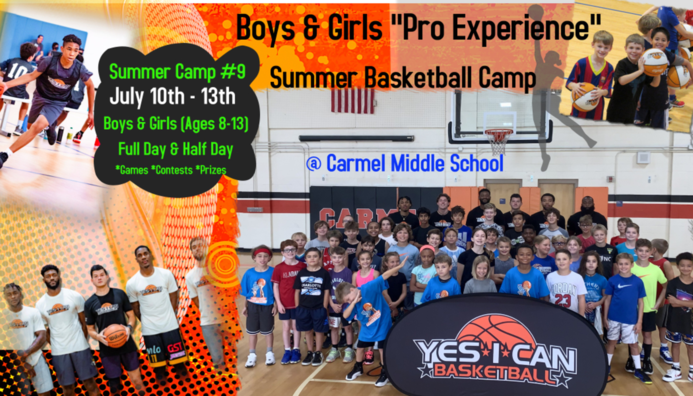 Summer Camp #9 - Boys & Girls (ages 8-13) "Pro Experience Camp"
Who: Boys and girls (ages 8-13) - yes we separate boys from girls :)
What: 4-Day Full Day (9:00am - 4:00pm)
Where: South Park - Carmel Middle School - 5001 Camilla Drive, Charlotte, NC 28226
When: July 10th - July 13th (Monday - Thursday)
Cost: $249 for all 4 days (includes camp gift)

Camp Description:
Oh wait a minute! Here's your chance to take part in a truly UNIQUE camp where you'll be taught and trained by ALL PROFESSIONAL BASKETBALL PLAYERS. This 4 day camp will be run by all current and former professional players. Learn the tricks, tips, and drills that helped them reach the pinnacle of the hoops world! This camp will feature high level skills development, followed by organized scrimmaging. During the last 30 minutes boys & girls will have the opportunity to watch the pros play!

Daily Camp Schedule:
(9:00am - 10:30am) - Skills training / stations work/ film study
(10:30am - Noon) - Competition / games / contests
(Noon - 1:00pm) - Lunch (players need to bring their own lunch)
(1:00pm - 4:00pm) - 4 on 4 & 5 on 5 scrimmaging / tournaments